Dr Allan Kruger is a Vascular Surgeon whose private practice has been based at Greenslopes Private Hospital since 2005. Allan graduated from the University of Queensland before completing his advanced training in vascular surgery, having trained in specialist vascular units across both Australia and New Zealand.
"My training incorporated both extensive experience in open vascular surgery as well as in the endovascular treatment of vascular conditions, including aneurysm and occlusive vessel disease. This allows me to offer the best treatment available and obtain the best outcome results for each individual patient."
Allan has maintained an interest in medical education at both an undergraduate and postgraduate level. He is heavily involved in vascular surgery training and has been an examiner at the Adelaide Vascular Trials for final year vascular surgery trainees for several years as well as conducting regular tutorials for medical students.
Dr Allan Kruger completed his medical degree at the University of Queensland before undertaking training in general and vascular surgery. He completed his advanced vascular surgery training in 2004, having trained both nationally and internationally.
Interested in all areas of vascular and endovascular surgery, Allan has a particular speciality area in aortic and mesenteric reconstruction as well as carotid body tumour surgery. Allan also holds a Radiation Safety License.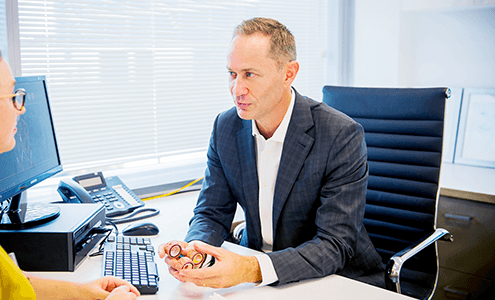 Medical Community & Vascular Education
Allan is heavily involved with education at all levels of medicine including junior medical staff, senior vascular trainees and allied health professionals. Dr Kruger is currently an examiner for the Royal Australasian College of Surgeons after many years of involvement with the Adelaide Vascular Trials as an examiner and convenor.
Serving Patients in and around Brisbane and Rockhampton
After receiving a referral from your GP,  please contact us to book a suitable appointment time